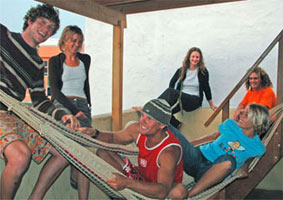 Our Surfcamp "Casa Hilda" is located in the centre of Corralejo and only some meters away from our Homegrown Surfshop. Beach, Party, Surf and Shopping everything is within a stone ' throw of the Surfcamp.

The Surfcamp consists of a house in Mediterranean style with an inner courtyard, a sundeck, common kitchen and two bathrooms. Plenty of space to eat, relax and party!


The 5 rooms are featured with 2 - 4 beds.

The sundeck is perfect for relaxing and sunbathing, whereas the inner courtyard is ideal to have a comfortable breakfast, lunch or dinner!

Casa Hilda is also equipped with a big TV and a DVD Player, so watching Surf-Movies while chilling after the surf is possible, too.

At "Casa Hilda" we attach more value on companionship in contrast to the Hotel.